This section describes how to onboard and deploy Reblaze via the Google Cloud Platform (GCP) Marketplace.
This guide will walk you through the process from the first access of the marketplace until Reblaze is successfully deployed and protecting your website. We offer our help at any step of the process at
[email protected]
.
Before carrying out your first deployment, we suggest that you watch these videos to better understand the onboarding and deployment process.
The process for onboarding Reblaze in GCP includes the following steps:
At this point, your deployment and setup are complete. To see the IP address of the new load balancer: from your
Google Cloud Platform Console
, select
Navigation menu

>
Network services
>
Load Balancing
and then click the name of the load balancer to see its details.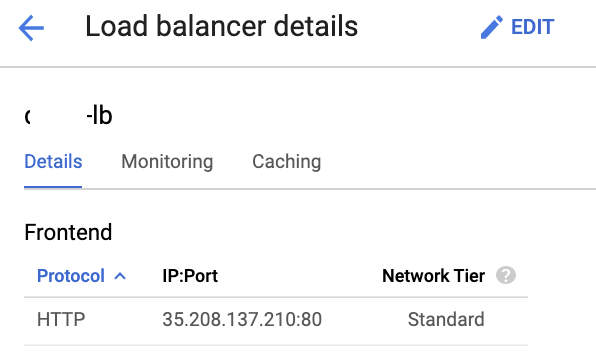 Now test to check whether your website works correctly when routing traffic to the Reblaze deployment. Perform offline testing by modifying your hosts file to point your website to the load balancer. If you see that you are returned to your website, routing via Reblaze is working correctly.
The last remaining step is to route your traffic to the load balancer, which will send it to your Reblaze instance(s). Reblaze will scrub the traffic and forward it on to your servers. To setup this routing, set your DNS record to the IP address that is resolved from the load balancer DNS Name.
Initially, Reblaze is setup for report-only mode. Assuming that this option was not changed, then Reblaze is not yet filtering your traffic; it is merely reporting on what it would have filtered had it been set up in active mode. This gives you an opportunity to fine-tune Reblaze's configuration before any of your traffic is actually affected. When you are comfortable with the reporting results, move the application to Active mode and publish the change, as described in
Configure the Reblaze Platform
.
As you might notice from looking through the interface, the Reblaze web security platform is both powerful and highly customizable, with the ability to be fine-tuned for your specific needs. However, it is beyond the scope of this document to describe this customization process. Furthermore, a full and correct customization is often rather daunting for new users.
We at Reblaze Technologies want you to have the best experience possible with the platform, so that you will enjoy the full benefits of comprehensive, intelligent, and effortless web security. Therefore, please feel free to contact support at
[email protected]
, for further one- on-one assistance in setting up your deployment. We're available 24 hours per day to assist you.